Staff
Islamic Art
Year 6 had a wonderful day learning about Islamic (Arabesque) art.
We learnt that Islamic art should never feature people or animals as it is disrespectful so it usually features repeated Goemetric patterns, foliage and flowers and calligraphy (decorated writing).
After designing our Islamic art, we used a blunt pencil to carve the patterns into foam tiles.
We then practised printing with these tiles and experimented with overlapping techniques.
Residential 2019
Year 6 had the best time at Bradley Wood on residential! We did loads of great activities such as climbing, archery, caving and the zipline! One of the funniest things was seeing the teachers dressing up in our bin bag fashion show though! What a fantastic 3 days!
The best thing about residential was the high ropes because I faced my fears- Evie
The best activities were the zipline and cave bus. The cave bus because I like to crawl around and for the zipline because I felt really brave. It was so fun- Noah.
Whitby
Class 6 have been reading Room 13- a book which follows the journey of year 6 Fliss who travels from Bradford to Whitby for a school trip. Plagued with bad dreams, Fliss doesn't like the feeling she has in the pit of her stomach. Fliss and her friends take on Dracula and save the day! Class 6 decided to go to Whitby to check that Dracula was no longer bothering the poor people there. Luckily, we found his grave and all was okay! Whilst we were there, we had a go at crabbing and ventured up the 199 steps! We had a fantastic day.
Year 6 Langar
In RE, Year 6 have been learning all about Sikhism. A big part of the Sikh religion is about giving to charity and giving back to the local community. Every day, twice a day, Sikhs host a Langar (free kitchen) for anybody, regardless of gender, race or religion, who would like to attend.
The Langar is prepared by Sikh families and is always a simple vegetarian meal.
Everybody sits on the floor as this shows equality.
Class 6 decided that they would like to cook for our very own Langar and invite our parents, carers and families in to enjoy with us.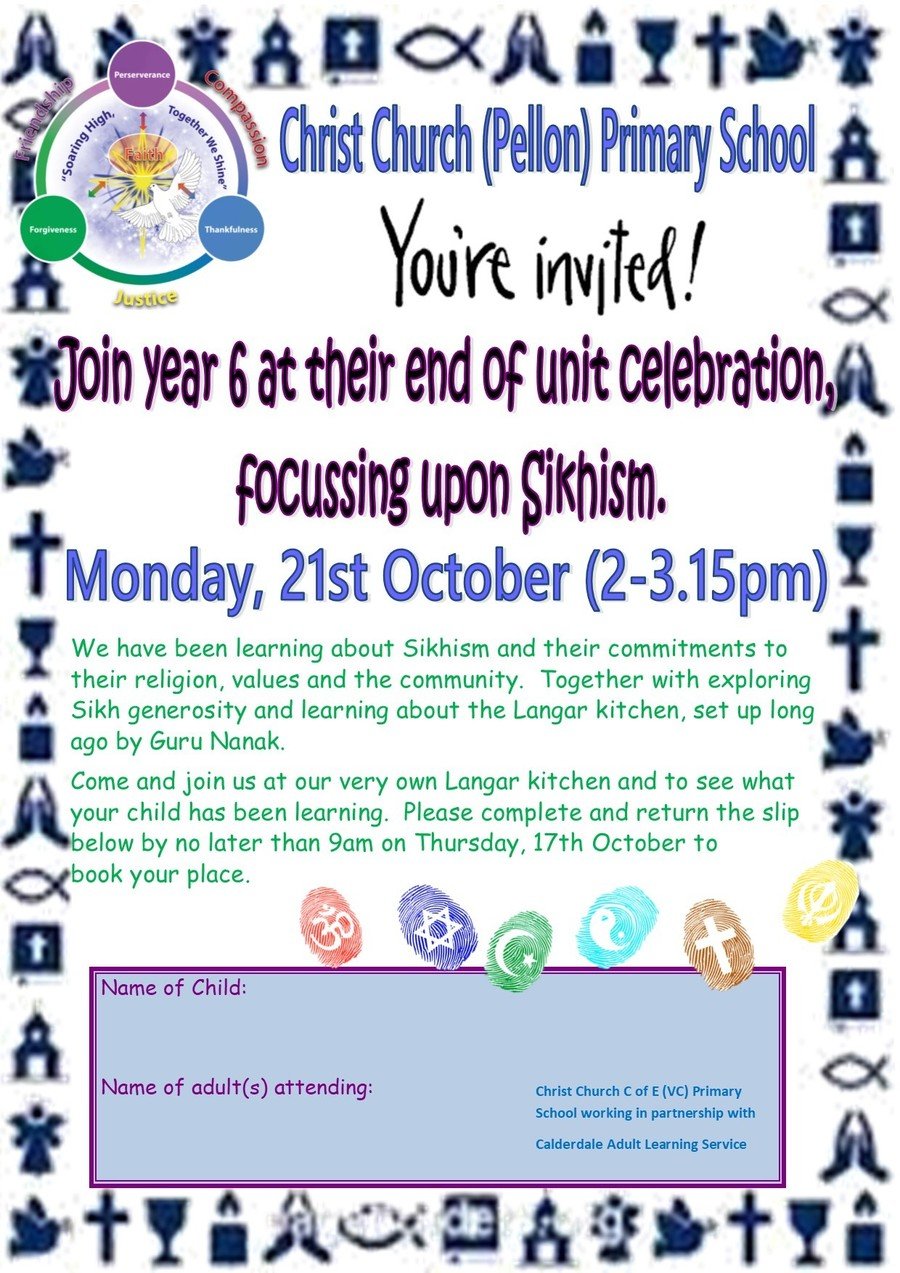 Year 6 raffle
Thank you to everybody who bought a ticket to our hamper raffle.
And the winner is.....
The LAST booster session!
Class 6 have been working super hard, attending two booster sessions (before school) per week since September! That's a lot of extra hard work!
As a special congratulations for graduating Year 6 boosters, the attendees were surprised with a yummy breakfast party!
It was so fun!
An art lesson with an element of surprise...
Class 6 have been working super hard in the run up to the SATs and have been having 'curriculum choice' lessons on a Friday afternoon.
Two weeks ago, the children wanted to do some art so we looked at contrasting colours, light and dark and then patterns.
Today they finished their final piece and were amazed to find that they had been creating Harry Potter!
Well done Class 6!
Silver Dojo Treat- cupcake decorating and mocktails
Class 6 have had a wonderful afternoon celebrating everybody earning 150 dojos.
They chose to have an afternoon of cupcake decorating and mocktail making- we had so much fun!
I wonder what the gold treat will be? We can't wait!
World Book Day 2019
Class 6 have had a fantastic day becoming a wolf pack (with a few extra friends!).
Our World Book Day book was 'The Wolves in the Walls'- a story about a girl called Lucy whose house has been over run by wolves!
We started the day by reading our book and then looking at a selection of VIPERS (Vocab, Inference, Prediction, Explanation, Retrieval and Summarise/Sequence) questions where we really got to grips with the text. Then we did some amazing descriptive writing- the children could write about anything, as long as one of the characters was a wolf!
Part of the book talks about how the wolves were watching the family through the holes in the paintings so we decided to make our own wolf pastel images with our own eyes peeking through!
Finally, we finished the day with our parents and carers joining us to make our very own wolf eyes out of clay!
It got very messy but we are really pleased with the results!
A fantastic day had by all!

Well done to the Wolf Pack!
SPAG Escape Room
On March 1st, Class 6 were locked in their classroom by a mad scientist!
They had to follow clues, answer questions and crack the codes for 5 levels to escape!
Each question was linked to revising apostrophes for their punctuation and grammar test in May.
After a very intense hour, they managed to escape!

Phew!
Thank goodness they got out in time for the SATs!
Congratulations to Julia, Hannah and Alice who cracked the codes in record time and escaped first!
Parliament Day
KS2 have had a visit from Rachael at UK Parliament Education today and engaged in a really interesting assembly about what our country's parliament is made up of. The children behaved impeccably and asked some really thoughtful questions.
Then Year 6 took part in a workshop based around campaigning for change.
We learnt about how people used to campaign in the olden days (from going on hunger strike and chaining themselves to railings!) to how we can campaign now; by using social media, for example.
Class 6 were so inspired by the idea of campaigning for something that they then went on to discuss how we could change our school environment for the better!
Our ideas will be announced soon... watch this space!
Macbeth visit
We were very lucky to be invited to watch All Saint's Macbeth production at the Playhouse in Halifax.
We had amazing weather (in February!) for walking down to watch the performance- even though we had to rush a bit!
The performance was incredible and we were all entranced by the actors, the music and the lighting!
We can't wait to read Macbeth for ourselves now! We might even do our own performance!
Memory boxes
As part of our DT topic, we have had to design and build something that includes a wood joint.
We decided that we would build some memory boxes to keep things that will remind us of Christ Church when we leave.
We spent lots of time designing our boxes and then the building started!
We needs rulers, saws, bench hooks, sand paper, hammers and nails!
It was really hard work- particularly the sawing! The hammering was really frustrating; the nails kept on bending!
Whitby
Class 6 have thoroughly enjoyed our topic of Whitby this half term.
It has taken us on a gothic journey, where we have been following and tracking down Count Dracula!
We think that we may have even found his grave when we went to Whitby for the day. It was so much fun- we wish that we could do it every week!
Our English book, 'Room 13', has had us so gripped that we've not wanted to go home at the end of the day so we can finish reading! It has inspired lots of brilliant writing- from using figurative language to describe settings, to writing to Justin Bieber to correct his grammar! More recently we have been using language to build tension and get our readers' hearts racing. Please see below for a snippet of Alice's fantastic writing:
I walked along the narrow passage, crossing my arms over my chest. I was in a haze of thoughts, so I couldn't feel the cold air biting may face. Thoughts of 'Where am I?' and 'What am I doing here?' crossed my mind. "Look at me, all alone here in the woods." I whispered, for I was sure I was alone. Still floating in my thoughts, I wandered along the empty path. A rustle to my left heaved me out of my pool of thought. I quickened my pace. My heart was racing in my chest, like an animal in a cage. Snarling. Growling.
Alice, Year 6.
What we have been up to in class:
Task: Design a chair suitable for Henry VIII
Class 6 have been very busy lately! They have been using their maths skills (division, multiplication and measuring) to design a chair fit for a king! Then came the task of making them!
Class 6 used glue guns, saws, sandpaper, hammer and nails and other tools to constuct fabulous pieces of furniture.
Check out the pictures below to see our process and the end result.
We are very proud of our amazing work!
Year 6 Blog
As a part of our 'Gothic Literature' topic, we visited the home of Dracula himself! The day was very overcast and brooding, which was perfect for creating the Gothic atmosphere. Luckily the rain held off and we didn't get too wet!
Curriculum
Here is the Year 6 Curriculum information, here you will be kept up-to-date with all the current teaching going on in Year 6 in each term. If you have any queries please contact one of the class teachers.
Below you can click the images or the text links to view the information regarding that subject.

Phonics
How we teach phonics at School
Helpful information
The word list below shows the words that you should be able to spell by the end of year 6, you this is in addition to the words that you have learnt from years 2 and year 4. Have a look at the year 2 page and the year 4 page as well if you need to refresh yourself.
Word list – years 5 and 6

accommodate

criticise (critic + ise)

individual

relevant

accompany

curiosity

interfere

restaurant

according

definite

interrupt

rhyme

achieve

desperate

language

rhythm

aggressive

determined

leisure

sacrifice

amateur

develop

lightning

secretary

ancient

dictionary

marvellous

shoulder

apparent

disastrous

mischievous

signature

appreciate

embarrass

muscle

sincere(ly)

attached

environment

necessary

soldier

available

equip (–ped, –ment)

neighbour

stomach

average

especially

nuisance

sufficient

awkward

exaggerate

occupy

suggest

bargain

excellent

occur

symbol

bruise

existence

opportunity

system

category

explanation

parliament

temperature

cemetery

familiar

persuade

thorough

committee

foreign

physical

twelfth

communicate

forty

prejudice

variety

community

frequently

privilege

vegetable

competition

government

profession

vehicle

conscience*

guarantee

programme

yacht

conscious*

harass

pronunciation

controversy

hindrance

queue

convenience

identity

recognise

correspond

immediate(ly)

recommend


Half Termly Topic Work
Coming soon...