Young Carers
At Christ Church we are aware that some of our pupils might be young carers. A young carer is someone under 18 who is caring unpaid for a family member or friend who is ill, frail, disabled or has mental health or substance misuse problems. They often take on practical and/or emotional caring responsibilities that would normally be expected of an adult. The 2011 Census statistics revealed that there are just over 166,000 young carers in England, but research reveals that this is just the tip of the iceberg. The true figure could be closer to 700,000 young carers in England, equivalent to one in 12 school children many of whom are unrecognised and unsupported.
We know that young carers may need a little extra support to enjoy and do well at school. At Christ Church we are committed to ensuring that all pupils who are young carers are identified, and supported effectively.
The Young Carers in Schools programme helps schools improve outcomes for young carers and celebrates good practice through the Young Carers in Schools Award. We have been awarded a award for our work to make sure our students don't miss out on an education because they are young carers.
To achieve this award we have demonstrated that we support young carers in many ways and vital information about how to identify young carers is made available to all school staff. We also have noticeboards and this school webpage with helpful information and advice.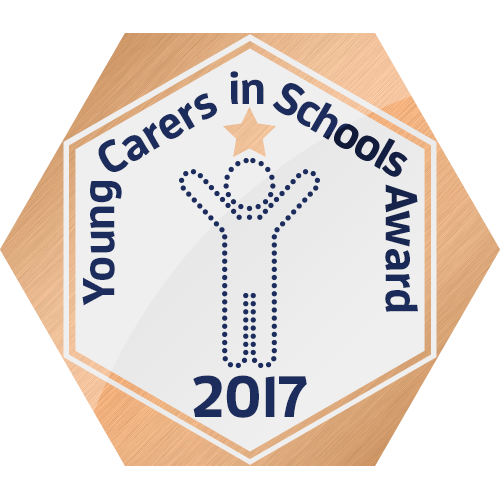 Miss Coward in the Pastoral Office is our Young Carers School Lead who has responsibility for ensuring all young carers are able to enjoy school and make good progress. We also work closely with Calderdale's Young Carers Service.
If you think your child might be a young carer, or could be affected by any of the issues we've highlighted, please contact Miss Coward on 01422 350792 option 3 to speak to Miss Coward directly or you can leave your details with the school office and your call will be returned.
Any information that is given to us will be treated sensitively and no information will be shared without your knowledge.
We also have a pupil notice board in the school hall where children will find helpful information and details of the activities offered by Calderdale Young Carers Service.
For further information please check out:
Useful organisations
Carers Direct
This site is for young people who are caring for someone who is ill or disabled
Website: http://www.nhs.uk/Conditions/social-care-and-support-guide/Pages/young-carers-rights.aspx
Telephone: 0808 802 0202
Carers Trust:
Carers Trust believes in a world where the role and contribution of unpaid carers is recognised and they have access to the quality support and services they need to live their own lives.
Website: https://carers.org/