Maths
At Christ Church we aim to make Maths fun, stimulating and enjoyable- as well as challenging and thought-provoking. We aim to provide a solid foundation of knowledge and skills that children can refer to and use throughout the whole school, both in mathematics and other curriculum areas. Pupils are taught how to reason; how to prove that they are correct and explain their thinking- our aim is for the children to go deeper and really think outside the box. Our pupils are given the experience of applying their mathematical skills and knowledge to real life scenarios, where they have to estimate, predict and problem solve. Maths is taught every day in Christ Church; with all the children accessing our fluency, reasoning and problem solving learning journey- children have equal opportunities to succeed in and then master maths. We aim for all of our children to be proud of their mathematical brains!
Mr Chaffer
Deputy Headteacher
Subject Leader for Maths
Learning through song
Using songs is a really great way to engage children with maths. Check out Numberocks on YouTube for some catchy songs that cover many areas of maths.
Mental Maths Expectations at Christ Church
The ability to calculate in your head is an important part of maths. These basic skills contribute to all areas of mathematics, they are not just applicable to your child's current year group but to all school and then further into adult life.
These skills are necessary to many parts of day to day living: making sure that you have been given the correct change in a shop, scaling up and down (e.g. doubling and halving) recipes when cooking and many other things.
Help support your child at home by giving them maths questions to answer every now and again. Practising new skills little and often has been proven to have a fantastic impact on learning and getting new knowledge into a person's long term memory.
If you have any questions about any of these skills, please make an appointment with your child's class teacher or Miss Key.
Thank you.
PLYT club- Every Wednesday 12:40- 13:00
Are you in year 3, 4, 5 or 6 and love Maths? Or are you really wanting to practise your times tables?
Then PLYT club is the club for you!
PLYT club runs every Wednesday (12:40- 13:00), in the hub- 20 minutes of maths packed fun!
Challenge opponents whilst learning and see who gets to the finish line first!
See you next Wednesday!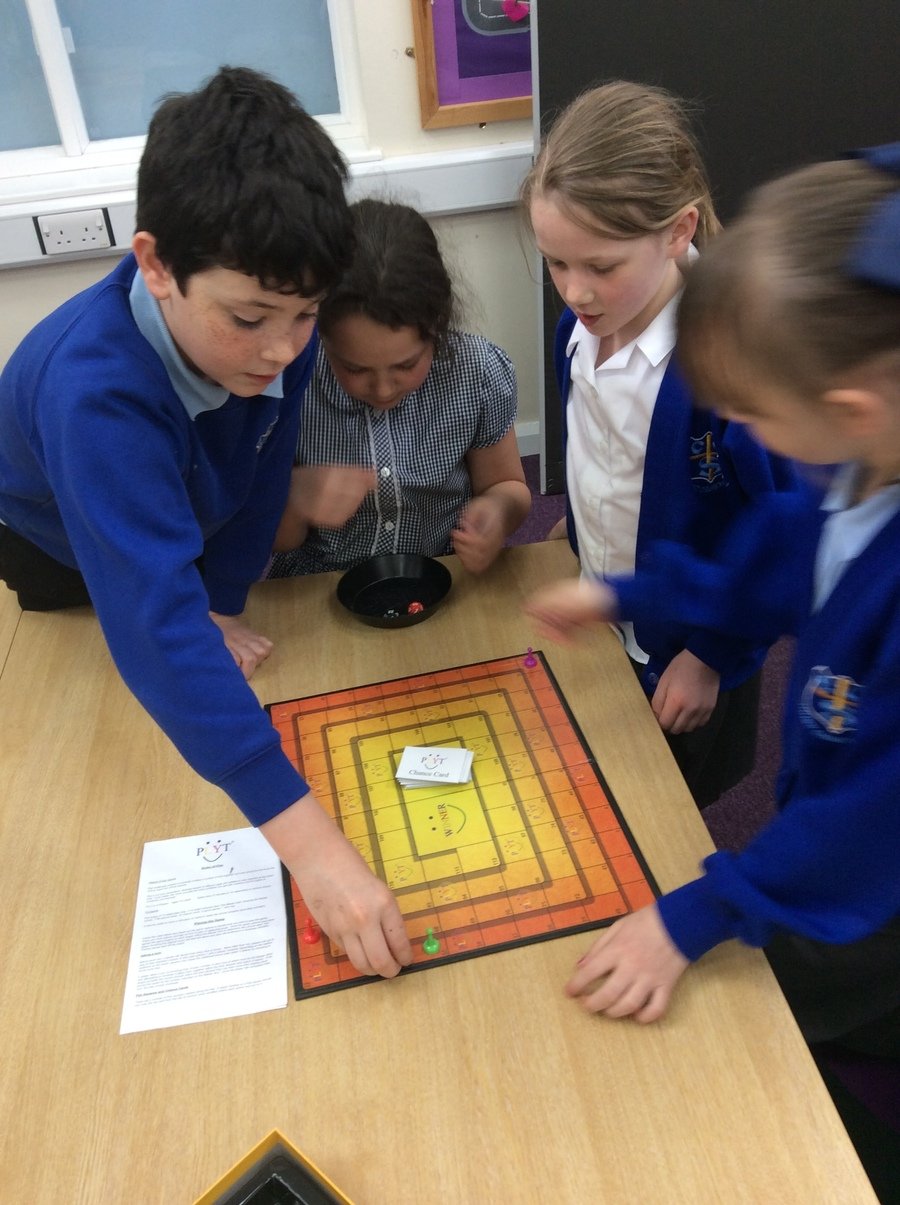 Thursday 23/11/2017
Christ Church enjoyed a fun filled day full of money and crafts on Thursday 23rd November. In the morning children investigated money. Some classes set up a shop and learnt about giving change and paying for things, some tackled multi step problems linked to money and others started to recognise different coins.
In the afternoon, parents joined us to learn about what their children had been up to during the morning then they helped us to make our crafts to sell at the fayre. Part of the day was about predicting how much profit the children could make by selling their products at the Christmas Fayre- the winning class will earn a class treat as a prize.
In the afternoon assembly, children from each class showcased their creations and tried to encourage their friends to buy from their class stall. Which class will make the most money I wonder?
Training
More maths training completed by our hardworking staff to ensure that we keep standards high. Well done!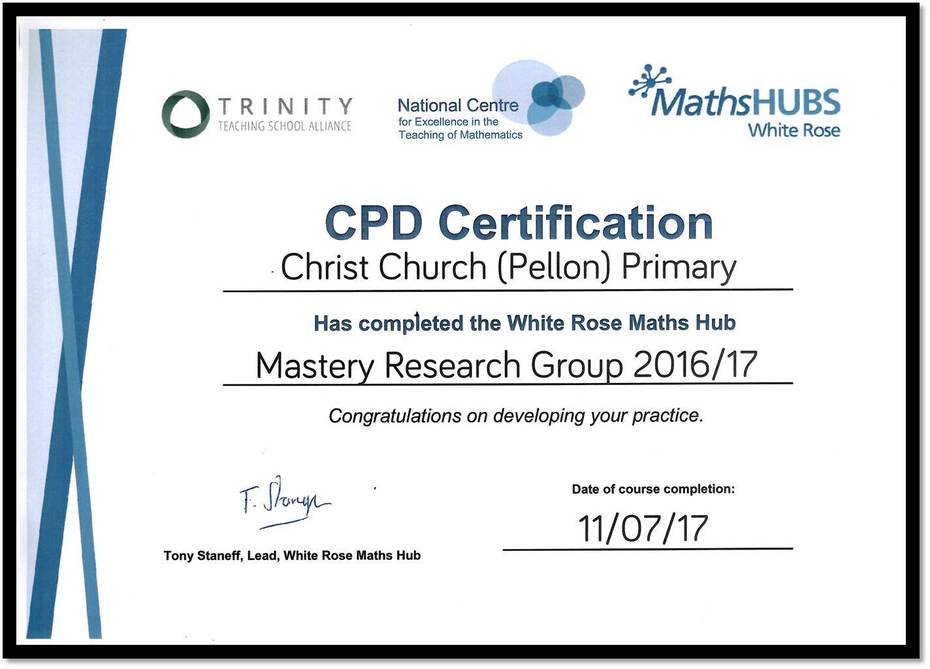 Times tables and music?
Together?
YES!
Check out this great song to help you learn your three times tables.
Try and learn it off by heart and show Miss Key for stars/ dojos.
Everyone can!
EVERYONE CAN DO MATHS!
CAN YOU?
Can you be like Miss Rose?
What can you teach your teachers?
Come and teach Miss Key all about Maths!
Maths at Christ Church
Children at Christ Church have been talking all about Maths. Take a look at our video to see what they think!
Pirate Maths
Monday 28th November was not a typical day at Christ Church. Mrs Midgley was talking about the big question, when all of a sudden there was a humongous bang and a pirate walked in! It turns out that he was in a terrible sea storm and ended up here in Pellon! Captain Morgan, who was in charge of 'The Good Ship Mathematics', was in a bit of a sticky situation… He had lost his treasure! Captain Morgan needed a lot of superb mathematicians who had a particular skill for problem solving and it turns out that our children at Christ Church were just what he was looking for. Usual lessons were put to one side and the children got to work- code breaking, using positional language and figuring out how to translate coordinates! We were very busy, and very tired by the end of the day- but we think we helped Captain Morgan out. Our new pirate friend is currently repairing his ship (The Good Ship Mathematics) and getting ready to set sail to find his booty! We eagerly await news from the Captain to see if he has found his treasure!
Photographs from our Pirate Maths Day.
Watch our video about the day.
Helping your child at home-
If you have a child in Reception please take the time to have a look at the document below, which details different ways that you can support your child's mathematical learning at home.
Thank you
Maths Objectives for each year group
This is a really useful document to show the maths objectives for each year group throughout the school.


Maths Mastery Family Learning Event 20/09/16
On Tuesday 20th September 2016 we held a Maths Mastery Family Learning event in School, parents were invited into class to explore the new mastery approach to learning maths. This was a mathematical journey through fluency, reasoning and problem solving.
The event gave parents the opportunity to investigate how children learn and there was an opportunity for parents to discuss with the class teachers how to help children achieve and succeed in maths.
The slides from the event can be viewed below.
Resources to support your maths studies