RE
At Christ Church we want our children to know that they are loved, cared for and valued. As a Christian school, our faith and Christian values are central to everything that we do. We don't just teach our children about these values, we model them continually and encourage our children to embed these values within their everyday lives, both at school and at home. We make sure that our teaching of the importance of Christian Values is firmly rooted in the teachings of The Bible.
RE is taught in accordance with the aims of the Local Agreed Syllabus for Religious Education in Kirklees and Calderdale 2014-2019. This syllabus for religious education is the statutory curriculum for maintained schools in Calderdale and Kirklees. It is also the agreed syllabus for all Church of England schools and academies within the two local authority areas. It is authorised by the Standing Advisory Councils (SACREs) in Calderdale and Kirklees.
Collective Worship
At Christ Church, the daily act of Collective Worship is viewed as an integral and important part of school life. It is a time where we come together to share our love of God and celebrate our achievements together. The school has a Collective Worship Committee, made up of members of each class, chosen by the teacher, for their interest in RE/ faith. They meet every 2 weeks with the Collective Worship Co-ordinators (Mrs Bullard and Mrs Godfrey). Their role is to plan, monitor and evaluate Collective Worship. Some of the decisions they have made are seating arrangements, behaviour management strategies and song choices.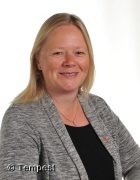 Mrs Bullard
Subject Leader for RE
Responsible for Christian Distinctiveness, SIAMS & Collective Worship
What have we been doing in RE?
Inter Faith Week, week beginning November 12th, 2018:
As part of our RE work, we celebrated Inter Faith Week, working towards the following aims:
To strengthen good inter faith relations at all levels
To increase awareness of the different and distinct faith communities in the UK, in particular celebrating and building on the contribution which their members make to their neighbourhoods and to wider society
To increase understanding between people of religious and non-religious beliefs
During the week, we had a guest speaker from the Sinai Synagogue in Leeds who taught us all about the religion of Judaism. We also had a family learning event where we learnt about the religion of Islam – we found out about the key features of a Mosque, tasted delicious traditional food and we enjoyed having traditional mehndi patterns painted on our hands! A great time was had by all!