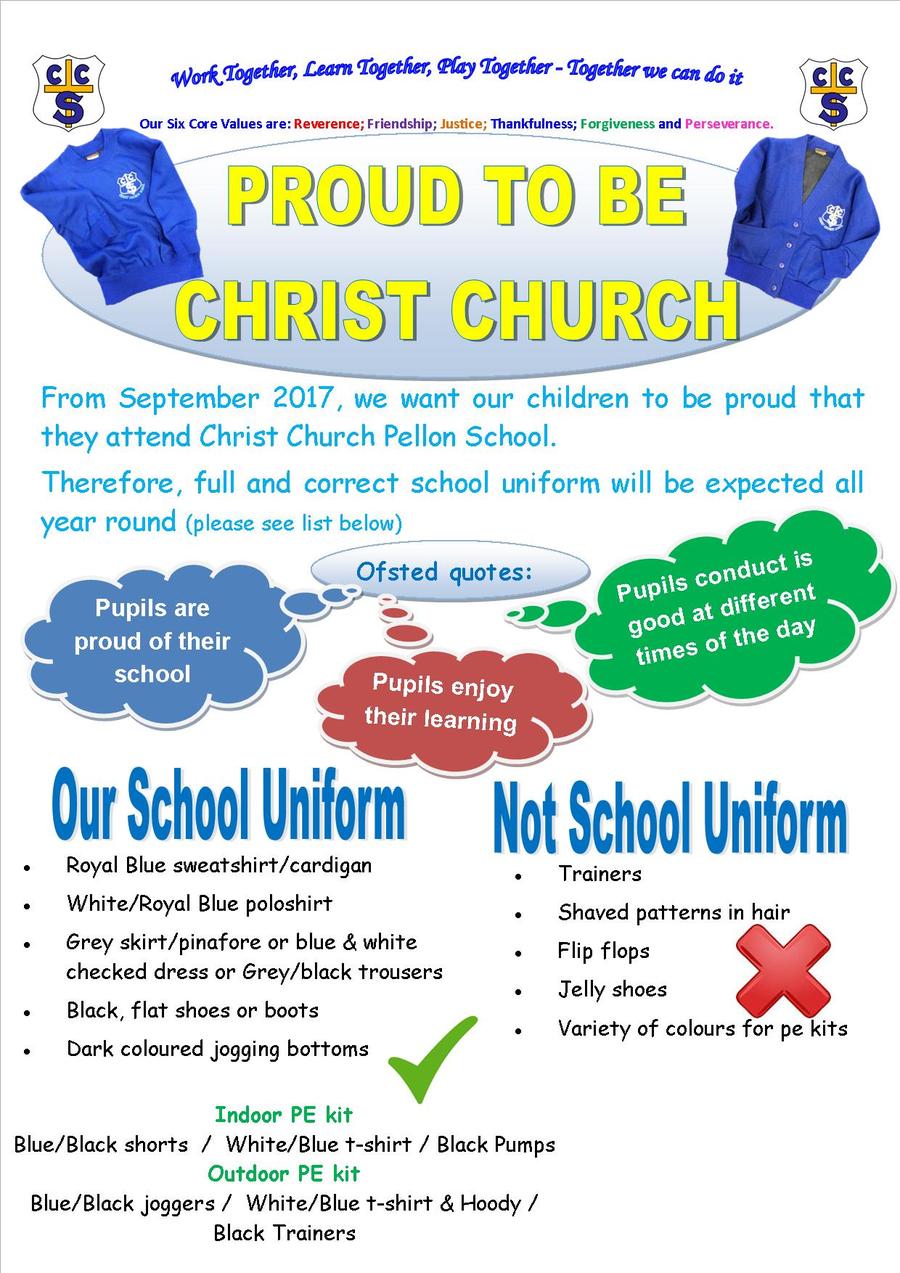 School Uniform
At Christ Church school we aim to achieve high standards in all areas of school life including appearance. Wearing a smart uniform is an important factor in encouraging a disciplined, positive ethos at Christ Church School. It is the policy of the School that pupils shall wear school uniform as outlined below.
Parents'/carers' support in this matter is expected and appreciated.
The school uniform is;
Grey skirt or Pinafore dress or Grey trousers.
A white / royal blue polo shirt
A royal blue sweatshirt or cardigan.
Checked dress in any colour can be worn in summer.
Children in reception can wear dark coloured jogging bottoms.
Polo shirts and sweatshirts/cardigans embroidered with the school logo are available from the school office. A small amount of second hand uniform is available for parents on low income.
In addition the children will require shorts, t-shirt and pumps for PE and, for those in Years 4 and 5 a towel, swimming costume or trunks.
All belongings should be clearly named.
Jewellery
The only item allowed in school is a single ear stud worn in the lobe of the ear and a wristwatch. Make-up and any other form of jewellery are forbidden.
Hair
Must be neat and tidy with no 'extreme' styles, two-tone colours of unnatural colours. Fashion styles, including very short hair with patterns etc. cut into the hair are not permitted. Hair braiding is not allowed. Long hair must be tied back in practical lessons for health and safety reasons.
As children are very active during playtimes, we ask that parents ensure that children wear flat shoes which are appropriate for running and climbing.
Purchasing uniform
All items of school uniform can be purchased from Shaw and Hardcastle in Halifax town centre. Their address is:
Shaw and Hardcastle
3 Old Arcade
Halifax
Telephone: 01422 353949
The uniform prices have been agreed between school and Shaw and Hardcastle.