English
At Christ Church (Pellon) we strive to foster a love of books and literature. Our English teaching is based on a class text which is a stimulus for all the writing and grammar teaching for the unit. Books are chosen to link with topic teaching wherever possible. Children are taught to write a range of text types in accordance with the National Curriculum 2014.
We endeavour to foster this love of books through children's own choice of reading book which they are expected to take home on a daily basis. We use the Accelerated Reader program which enables children to choose a book they will enjoy from a range of books that are within their ability range. Our children love the on-line quiz which they then take to assess their understanding of the book. We have recently re-stocked our brand new library to give children a wide range of popular and traditional literature to choose from.
We run reading competitions which include 'The Millionaire Club'- children who have read 1 million words receive a certificate and prize - and the '50 Book Award' where children who have read 50 of the most popular children's books also receive a prize.
Reading is taught through a daily Guided Reading session when children rotate around a carousel of at least four activities, at least two of these are adult lead.
We teach the grammar curriculum through our English lessons and teach separate handwriting and spelling lessons through the "Letter Join" scheme and the "No Nonsense" spelling scheme.
We have a whole school focus on editing for clarity and accuracy.
In EYFS and KS1, we teach phonics daily and children who need to continue with phonics into KS2 are taught this in addition to reading and spelling lessons. We aim to hear children read on a daily basis in KS1 and Y4, 5, and 6 children assist with this as "Reading Buddies."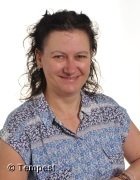 Mrs Cowton
Subject Leader for English
World Book Day - 02/03/2017
World book day this year at Christ Church was great fun as always; children and staff dressed as book characters and the variety and the imagination and work put into costumes was tremendous. Book prizes were awarded to the best dressed in each class- and this year it was harder than ever to choose. We organised a Book Quiz house competition which was incredibly nail biting but Rubies managed to reach the winning post on the final moments.
National Story telling week - week commencing 31/01/2017
This week was national story telling week, and to celebrate Christ Church School organised a "story swap". The children in each class visited another classroom and enjoyed a story read by the teacher. Year 5 were read "The Obvious Elephant" in our library by Mrs Cowton, Charlie said " l thought the story was really funny because the boy looked on the elephants handkerchief to find his name and guessed he was called "100% cotton" "